Ela Bhan
Eala Bhán is located in the heart of Sligo Town on a beautiful stretch of the Garavogue River. The décor here has a cool urban brasserie bistro feel with dark wood floors, subtle lighting, well-spaced tables, and it is a place in which there is always a buzz.
The food is classic with a contemporary twist and offers everything you could possibly want.  All of the local seafood is hand-selected and artistically prepared to perfection. All of the steak cuts stand tall with the superb flavour of aged beef that is cooked to your liking.  Produce is organic whenever possible, sourced from local suppliers and direct form local producers.
Induge Sligo
Indulge is Sligo's newest restaurant centrally located in the heart of Sligo on O'Connell Street. A great place to eat combining an intriguing atmosphere with excellent interesting food. Our influences range from street food to fine dining, but we want it all to be casual experience for you. Our mission is not to have great tasting food, but have an efficient and friendly service. Our team of highly experienced chefs has put together a choice of food which covers all palates including healthy choices for the Little Dudes. Our menu influenced by cousins from all over the world.
Bistro Bianconi
Long considered one of the best places to eat in Sligo, our family run restaurant first made mouths water in 1993. Now situated in heart of the town known as The Italian Quarter, our A la Carte & Collection Menu features Italian food at its very best. With an extensive menu of pizza, pasta, steaks, seafood and over 40 great wines we have something to tempt all food lovers.
Everything we do at Bistro Bianconi is inspired and fuelled by a genuine enthusiasm for cuising and is brought to life by a motivated and knowledgeable team.
The Glasshouse
With its bold angles, vivid colours, and to-die-for riverside views, The Glasshouse has brought a dashing shot of modernism to Sligo.
Whilst the daring design and the saturated colours will be the first things to grab your attention in The Glasshouse, you will find that by the time you are leaving it will be the professionalism of the staff that will be the real takeaway of any visit to this cool Sligo hotel. The location – right in the centre of town and hard by the banks of the Garavogue River – couldn't be bettered, with everything of interest in Sligo a short walk away.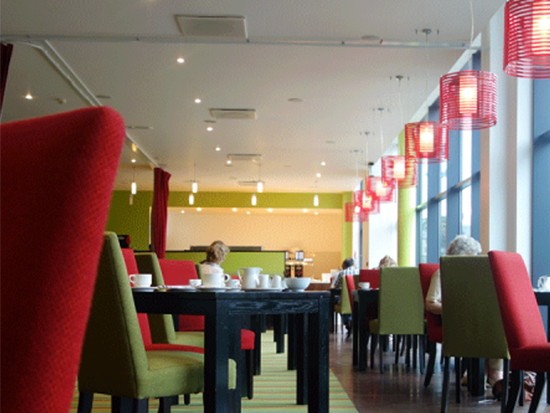 Knox Sligo
We are Knox – a small independent owner-run all day eatery on Sligo's O'Connell Street (no.32), located along Ireland's Wild Atlantic Way. We are open Tuesdays & Wednesdays (9am – 5pm), Thursday – Saturday (9am – 5pm & 6pm – 10pm) & Sunday (10am – 5pm) We close on a Monday (we need our beauty sleep too!!)Our focus is to do the best job we can, serving people honest fresh food and drinks that they can enjoy and that we enjoy making and serving (really important!). We pride oursleves on serving fresh, local and seasonal Irish produce for all our customers to enjoy.